Viper 5305VR LCD 2-Way Security and Remote Start System
November 23, 2020
Viper Powersports Security System
November 23, 2020
Viper 5105VR 1-Way Security and Remote Start System
Get a Free Quote. Enquire Now.
---
Description
Overview
Start your engine from up to 400 metres away with this entry level 1-way 5105VR Viper remote start + security system. This system comes with two 4-button remotes and several features, including keyless entry, SmartStart compatibility, dual stage shock sensor with a 6-tone siren that'll provide a warning chirp if someone lightly bumps your car and Starter Kill which prevents hot-wiring.
Features:
• Includes two 1-Way 4 Button Mini Ergo Programmable Transmitters
• XR+ Remote technology for a 400M range
• Full security & remote start functionality
• Keyless Entry
• Failsafe® Starter Kill Immobiliser
• Arm, Disarm & Panic – from transmitter
• Stinger® DoubleGuard® 2 stage shock sensor
• Revenger® Six-Tone Siren
• Valet Mode via Remote & Silent Arm/Disarm
• High Security Disarm
• Door, Boot & Bonnet Protection
• Clone-Safe® Code-Hopping®
• Parking Light Flash – Arm, Disarm & Trigger
• Super Cool BLUE Status Reporting LED
• Diagnostics & Event Reporting
• Dome light Supervision relay on board
• Comfort Closure
• Control Centre with antenna, Valet switch and Status LED combined in one unit
• 6 Auxiliary Channels for optional remote control conveniences
• Separate ESP2 & D2D ports
• Ignition Controlled Locking
• SmartStart compatible
• Lifetime Manufacturer's Warranty. Conditions Apply
• System upgrades available
SNAP SHOT
2015 Viper_5105V Product Info-FINAL
Glossary of Terms
The following terms are listed to assist you in defining the technologies your selected Viper system includes. Please note, not all Viper systems feature all of the following technologies, these descriptions are provided as a glossary of various Viper technologies for reference only.
REMOTES
The number and type of remotes that come with the system.
RANGE
Viper systems use Radio Frequency (RF) technologies to communicate with your vehicle, and these technologies each have a typical operating range. Range varies by the technology used, but also because of environmental factors such as interference from other RF sources. Currently Viper systems with the longest range use Spread Spectrum Technology (SST) with range up to 1.5km.
REMOTE START
Remote Start allows you to start your engine by remote control, allowing your vehicle's climate control system to warm up or cool down the cabin before you get in. Range is important with remote start (your vehicle might be parked down the street, or at the far end of a parking lot) and 2-Way remote start systems are preferred (because they confirm that your vehicle has started.)
KEYLESS ENTRY
Unlock your vehicle's doors with the push of a button on your keychain remote.
BOOT POP
Viper systems with Boot Pop can open your power boot with the push of a button.
SMARTSTART COMPATIBLE
A Viper SmartStart module can be added to this system to make your vehicle SmartStart ready.
ENCRYPTION
Clone-safe, anti-Code Grabbing technology comes standard on every Viper system.
DOMELIGHT SUPERVISION
A great safety feature: illuminates your vehicle's dome light for 30 seconds when you disarm your security system or unlock the doors of your remote start system.
STINGER DOUBLEGUARD SHOCK SENSOR
Each Viper security system comes standard with the dual stage Stinger DoubleGuard shock sensor, which detects blows or impacts to the vehicle and can discriminate light impacts from heavy ones.
Failsafe Starter Kill Keep your car where you parked it with the Failsafe Starter Kill, an immobilizer designed to prevent hot-wiring.
ANTI-CARJACKING ALSO REFERRED TO AS VRS
VRS is a user-operated anti-carjacking system. Once activated, if your vehicle is carjacked, 30 seconds later the siren will start screaming for help and the lights will flash. When the carjacker pulls over and turns off the ignition, the starter kill will activate, which should prompt the carjacker to then abandon your vehicle for eventual recovery.
# OF AUXILIARY CHANNELS
Auxiliary channels are electrical outputs controlled by your keychain remote, which your installer can interface with systems in your car to allow you to operate them by remote control.
Product Technology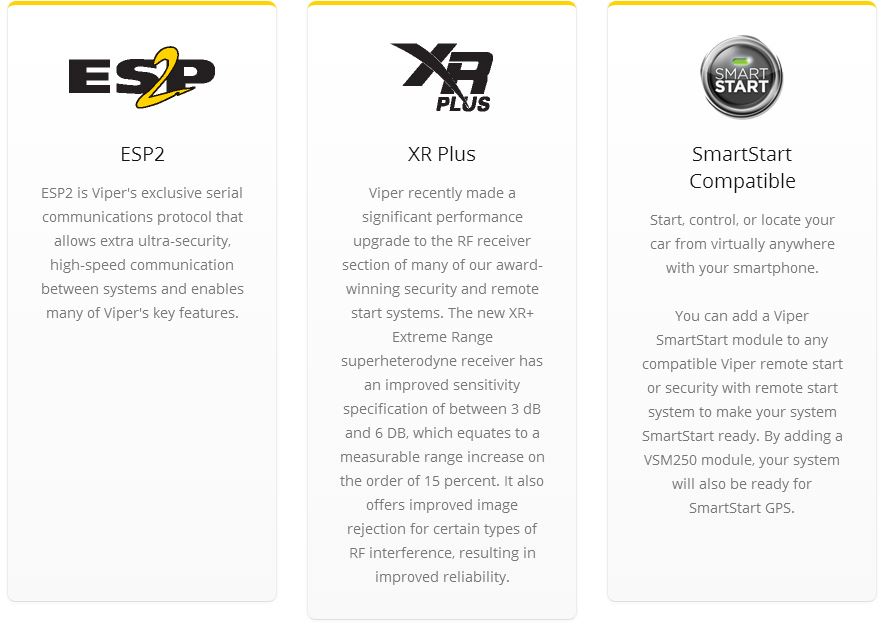 Related products
Overview The Viper 700VXR is a top of the line security upgrade alarm and is a great addition to any factory keyless entry system allowing you to interface with […]

Overview Viper's 5810V is a digital 2-way security and remote start system that is designed specifically for today's modern vehicles. This system allows control of your […]

Overview A state of the art fully featured, black wire, 3 point immobilisation alarm system that is specially designed for the Australian Market. Purpose built the […]