Viper Powersports Security System
November 23, 2020
Viper Responder 3305VR 2-Way Security System
November 23, 2020
Viper 3606VR 1- Way Security System
Get a Free Quote. Enquire Now.
---
Description
Overview
Vipers 3606VR security will wrap your vehicle in protection, with the most sophisticated electronic technologies available today. This unit features a one-way system, 6-channel security, keyless entry system, on-board door lock relays and parking light flash confirmation.
Features include:
6-channel security/keyless entry system
On-board Door Lock Relays
Parking Light Flash
Failsafe® Starter Kill Immobiliser
Stinger® DoubleGuard® Shock Sensor
Six-Tone Battery Backup Siren
Bright Blue LED Status Indicator
Dome Light Supervision – On-Board Relay
Retained Accessory Power
Comfort Closure
5 Auxiliary Outputs
Horn Honk
Includes One 4-button Ergonomic Design Transmitter
SNAP SHOT
Glossary of Terms
The following terms are listed to assist you in defining the technologies your selected Viper system includes. Please note, not all Viper systems feature all of the following technologies, these descriptions are provided as a glossary of various Viper technologies for reference only.
REMOTE CONFIRMATION:
2-Way remotes let you stay in touch with your vehicle, confirming your commands (such as remote start, or arming your security system) either with an LCD screen on the remote, or using LED lights. Some 2-Way remotes also act as a security pager, letting you know your siren has been triggered, even if you are too far away to hear it.
REMOTES
The number and type of remotes that come with the system.
RANGE
Viper systems use Radio Frequency (RF) technologies to communicate with your vehicle, and these technologies each have a typical operating range. Range varies by the technology used, but also because of environmental factors such as interference from other RF sources. Currently Viper systems with the longest range use Spread Spectrum Technology (SST) with range up to 1.5km.
KEYLESS ENTRY
Unlock your vehicle's doors with the push of a button on your keychain remote.
BOOT POP
Viper systems with Boot Pop can open your power boot with the push of a button.
SMARTSTART COMPATIBLE
A Viper SmartStart module can be added to this system to make your vehicle SmartStart ready.
ENCRYPTION
Clone-safe, anti-Code Grabbing technology comes standard on every Viper system.
DOMELIGHT SUPERVISION
A great safety feature: illuminates your vehicle's dome light for 30 seconds when you disarm your security system or unlock the doors of your remote start system.
STINGER DOUBLEGUARD SHOCK SENSOR
Each Viper security system comes standard with the dual stage Stinger DoubleGuard shock sensor, which detects blows or impacts to the vehicle and can discriminate light impacts from heavy ones.
Failsafe Starter Kill Keep your car where you parked it with the Failsafe Starter Kill, an immobilizer designed to prevent hot-wiring.
ANTI-CARJACKING ALSO REFERRED TO AS VRS
VRS is a user-operated anti-carjacking system. Once activated, if your vehicle is carjacked, 30 seconds later the siren will start screaming for help and the lights will flash. When the carjacker pulls over and turns off the ignition, the starter kill will activate, which should prompt the carjacker to then abandon your vehicle for eventual recovery.
# OF AUXILIARY CHANNELS
Auxiliary channels are electrical outputs controlled by your keychain remote, which your installer can interface with systems in your car to allow you to operate them by remote control.
Product Technology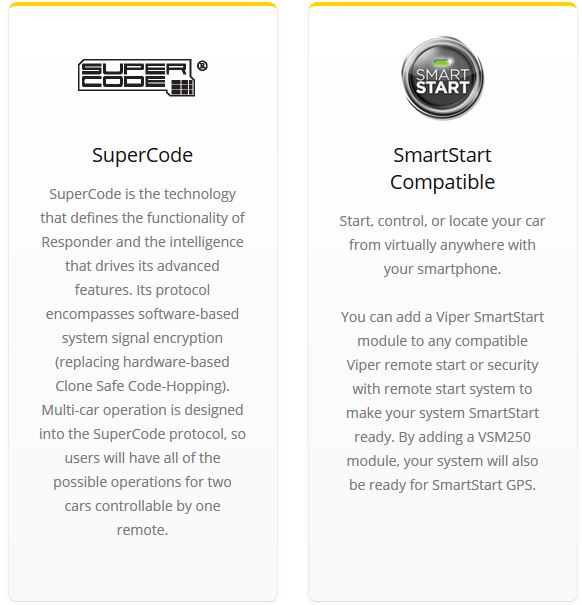 Related products
Overview CANBUS allows the Directed system to communicate with the vehicle via high speed digital data, through either a single wire or a twisted pair, which […]

Overview Viper's 5810V is a digital 2-way security and remote start system that is designed specifically for today's modern vehicles. This system allows control of your […]

Overview Protect your vehicle from thieves and vandals, start your engine with the push of a button with up to 600 metres range remote. Viper's 5606VR […]